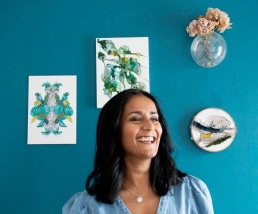 For 5 weeks starting on the 13th September
Kiran Patel- Illustrating Rain Locally born and International Artist will be our new Artist in Residence.
Hi, my name is Kiran Patel and I create art under the name of Illustrating Rain. Bringing to life what exists in my imagination into the world through art has been an act of creative alchemy that never ceases to leave me in awe and wonder. I knew I wanted to be an artist at the age of 4 and that dream came true in 2014. Since then I have created art for collectors of original art worldwide and worked with brands such as Starbucks and Shiseido.
I am also a big believer in talking about the creative process and wrote my first book called "The Spirit of Creating" to support budding creatives, along with a podcast of the same name. I hope to inspire others who feel that they may be called to turn their creative passions into their life's work and break through the myths that surround this endeavour.
Each Monday from 11am until 5pm Kiran will be in the morning room.
Pop in and see her produce a new piece of work inspired by the hats in our collection.
Dates are Monday 13th 20th 27th September 4th and 11th October
So do pop in and see her and also have a look at her beautiful paintings that are also on display.
Event Details
Venue:
Wardown House Museum Morning Room
Time:
11:00 AM - 05:00 PM