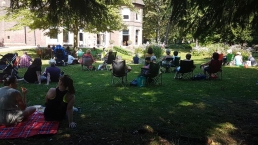 Over 2 days 14th and 15th August the air will be filled with music.
Saturday 14th 12pm Steel pan- duo from Revellers Steel Pan Band from Luton
2pm Two Tone- a wonderful singing duo bringing you music from the 40's all the way to the present day
Sunday 15th 12pm Ukie- Toones - Local Ukele Band who perform for charity
2pm Shambles Big Band - local youth band , who have supported us every summer.
So get those blankets and chairs, come and join us in the garden and have some fun times .
The cafe will be open for sandwiches, cakes and coffee
Looking forward to seeing you there!
Event Details
Venue:
The Gardens of Wardown House Museum
Date:
Sat 14 August - Sun 15 August
Time:
12:00 PM - 04:00 PM